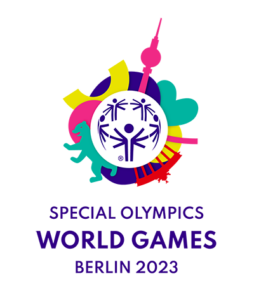 The Special Olympics World Games Berlin 2023 will be held from June 16-25, 2023. Over 7,000 Special Olympics athletes and Unified Partners from 180 nations will compete in 24 summer sports.
Many renowned sports facilities in Berlin, Germany will provide state-of-the-art competition venues, including Berlin Olympic Stadium, which will hold the Opening Ceremony.
Special Olympics New Jersey will be sending 3 athletes, 1 Unified partner, and 1 coach to Berlin to represent Special Olympics USA.
#CHEER4USA
Special Olympics USA Berlin 2023 Website
---
Participant Bios
Read all about our athletes, Unified partner, and coach as they prepare for Berlin!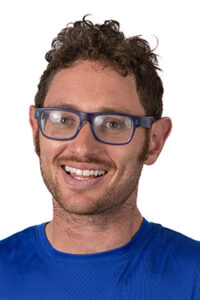 Brian has been competing in the sport of powerlifting for over twelve years with Special Olympics New Jersey. He has also competed in both the USA Powerlifting and Raw Powerlifting Federations competitions. He was member of Team NJ in 2018 in Seattle, Washington, and Team NJ in 2022 in Orlando at the National Games. Brian works full time for the Delaware River Waterfront at the roller/ice skating rink, and he works out at the gym five, or more days a week, year-round, as well as in his apartment. He also likes to roller skate and ice skate in his free time. He volunteers time walking rescue dogs, enjoys comedy shows, and movies. He is very excited to have this extraordinary opportunity to be part of the 2023 Special Olympic USA team, and is committed to do the best he can to represent his Team to the best of his ability.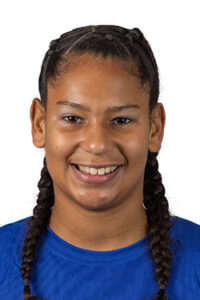 Farrah has been a Special Olympics gymnast for 6 years, most recently competing at the 2022 Special Olympics USA Games in Orlando, representing New Jersey. She is a Junior at Morristown High School, and lives in Morris Township with her parents, her sisters Marlee and Halle, brother Jordan, and her 3 dogs. When Farrah is not practicing gymnastics, one of her favorite places to be is at Northern Elite, where she cheers for the Rockstars and helps coach one of the younger teams. Farrah also likes to play soccer, run track, swim, shop, go to the beach, babysit her cousins and spend time with family. Once she finishes school, Farrah would like to be a preschool teacher. She is looking forward to the incredible journey to Berlin – meeting new friends, working hard, having lots of fun and, of course, bringing home a medal! Farrah is honored to be representing the USA in the 2023 World Games - Go Special Olympics USA!!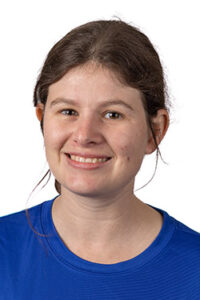 Halli has been golfing and swimming with Special Olympics New Jersey for 12 years. Halli has honed her skills in both sports over the years. She has had many awesome coaches and Golf Partners who continue to encourage her. Halli owes her start in golf to her Aunt Jackie, who was her first SONJ Unified Golf Partner and started her on her journey to where she is today in the sport. Halli has a brother and sister. She lives with her parents Chuck and Laura, and her two dogs, Nala and Zorra. When Halli is not golfing or swimming, she can be found working at Chick-fil-A or eating Chick-fil-A. Halli loves her job at CFA and all her coworkers, who are very supportive. Halli enjoys spending time with her family watching baseball and basketball. She likes horseback riding, riding her bike, playing games, reading, surfing Facebook, and Avocados. Halli is happy to represent Special Olympics USA Games. She is looking forward to competing as well as meeting new people and making new friends.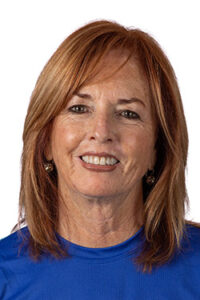 Mary Pucciarelli of Brielle, New Jersey, is proud of her involvement as a coach and Unified partner over the years with Special Olympics. She will represent Special Olympics USA as a Unified partner in golf. Taking this role very seriously, participating in Special Olympics has given Mary more perspective on competition, that it is not about winning, but about having fun. For the 2014 Special Olympics USA Games, Mary served as a golf committee member and course marshal. In the 2022 Special Olympics USA Games, she competed as a Unified partner. During her college years, Mary played tennis and basketball. She is a former high school and college tennis coach, as well as an inductee to the Mercer County Basketball Hall of Fame.
She has served as a board member on the Robert Wood Johnson University Hospital Hamilton Foundation and on the Garden State Women's Golf Association. She is employed as a financial advisor at Reilly Financial Group. As for her involvement with Special Olympics, she attributes her involvement to her best friend, Kathy Shedelbower, and her daughter, Mary's goddaughter, Jill. It is Mary's honor and privilege to represent Special Olympics USA at the Special Olympics World Games Berlin 2023.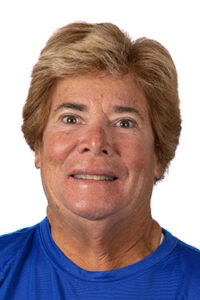 Susan has been volunteering for Special Olympics New Jersey since 2008, as a tennis and golf coach. She recently retired from the Barnegat Township School District as a Learning Disabilities Teacher Consultant, Varsity Tennis and Golf Coach. Susan loves to take walks on the beaches of LBI, riding her bicycle, and playing tennis and pickleball. Being involved in Special Olympics has changed her life and the lives of many athletes. What she is looking forward to in Berlin, Germany is meeting athletes and coaches from around the world and learning about the German culture. Susan is looking forward to cheering on Special Olympics Team USA as we go for the Gold!
---
Supported by