Category: News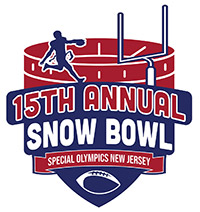 The 15th annual Snow Bowl to benefit Special Olympics New Jersey took place at MetLife Stadium in East Rutherford, NJ from May 21-23, 2021.
The 3-day, 6×6 flag football tournament which is normally played in March, raised over $310,000 for the thousands of Special Olympics New Jersey athletes.
The Snow Bowl is a unique fundraising event that gives players the chance to compete on the renowned turf field of the New York Giants. Five flag football games are played at once with unlimited panoramic stadium views. This year, the 2021 Snow Bowl had 94 teams compete with a total of roughly 1,400 players, and over 100 volunteers, including officials, physical therapy staff and Law Enforcement Torch Run event staff.
Friday teams consisted of Law Enforcement/Fire Fighters competitive & recreation; Saturday was competitive & recreation, 40 & older teams; Sunday was coed & recreation teams.
---
This year we featured LIVE streaming on Facebook during the day!
---
Top Fundraising Teams
Luke's Warriors 1
$16,662
Shark Finns
$12,311
LEEGION
$7,330
---
2020 Snow Bowl Pictures
Special thanks to photographers Kevin Mulkerin, Marco Catini, Rob Morris, and Ed Carattini.
---
Players had the opportunity to be treated like professional athletes, thanks to the volunteers at Professional PT, who taped, wrapped, iced and stretched all weekend!
Thanks again to everyone who participated in this year's event. Huge shout-out to our volunteer officials (this tournament could not happen without you) and to our sponsors: NY Football Giants, Flaghouse, and Lennar.