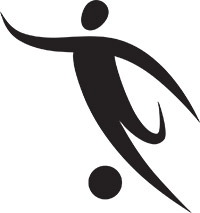 Soccer is one of the world's most popular team sports.  It's also Special Olympics' most popular sport because it can be played by boys, girls, men and women of just about any physical build and ability.  
Special Olympics soccer is a Fall sport where athletes train and compete from August through October.  Refer to our Return to Activity section to learn about COVID-19 protocols and rules involved for in-person competition.
Upcoming Events
We don't have any upcoming events at this time, but please check back and join us at one of our events in the future.
---
Additional Soccer Information
Regular physical activity is vital for good physical, social and emotional health. While there is a risk of injury with any type of physical activity, the benefits of staying active far outweigh the risks.
You can reduce your risk of exercise injury by:
wearing the right shoes
using the correct equipment
drinking water and staying hydrated
warming up and stretching properly
being aware of your surroundings – always exercise and compete in a safe and level area clear of any obstacles or items
maintaining social distancing rules when necessary (stay at least six feet away from others)
Stop exercising and seek medical help if you experience symptoms such as:
discomfort or pain
chest pain or other pain that could indicate a heart attack, including pain in the neck and jaw, pain travelling down the arm or pain between the shoulder blades
shortness of breath
a rapid or irregular heartbeat
Teams are required to compete in league play to advance to Fall Games. Individual athletes may
only miss two league games MAXIMUM in order to be eligible to advance to Fall Games. The top
three finishers at sectional competitions will advance to the Fall Games.
• Teams must be properly uniformed with numbered shirts and shorts WITHOUT pockets.
• Lunch will not be served at league dates. Lunch will be served on a 4:1 athlete to coach ratio at
the sectional competition and Fall Games.
---
Sports Registration Checklist
Read through and complete this checklist of to-dos before signing up for a local program.