Category: Events and Competitions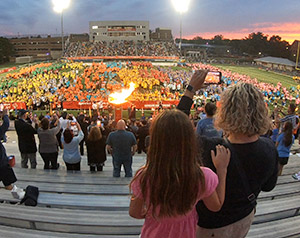 On Friday, June 10, through Sunday, June 12, the 2022 Special Olympics New Jersey Summer Games took place at the College of New Jersey (TCNJ) in Ewing, NJ after a long three-year hiatus! Over 1,500 Special Olympics New Jersey athletes, along with thousands of spectators and volunteers gathered together to kick off an incredible weekend at the Opening Ceremony on Friday night. There was an energetic athlete parade where families, friends, law enforcement, and fellow teammates cheered on each area as they entered the stadium and took their spots on the field. For the first time ever, SONJ live-streamed the Opening Ceremony via Facebook, as seen here.
Throughout the 3-day event, athletes competed in seven different sports, including Athletics (Track & Field), Bocce, Gymnastics, Powerlifting, Softball, Swimming, and Tennis. Competition venues consisted of Armstrong Memorial Park, Schafer Sports Center, and various locations across TCNJ's campus.
---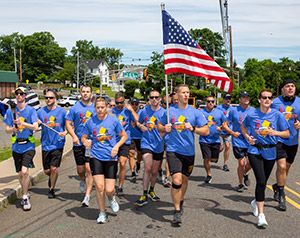 39th Annual Law Enforcement Torch Run
Prior to the start of the annual games, Special Olympics New Jersey kicked off the weekend with the 39th Annual Law Enforcement Torch Run. Every year, New Jersey law enforcement officers exchange their uniforms for running gear as they carry the "Flame of Hope" throughout the state into the Special Olympics New Jersey Summer Games Opening Ceremony. Over 3,000 officers participated in 26 separate Torch Run legs, which started and finished at various locations across the state.
The annual Torch Run will raise close to $500,000 in 2022 and not only provides funds but gives the law enforcement community a chance to show their support and admiration of our athletes. What an exciting way to jump into the biggest competition event of the year!
---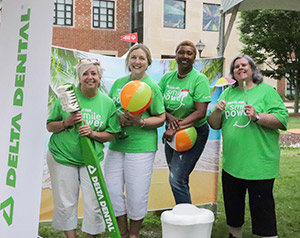 Olympic Village
Saturday, June 10 was jam-packed with competition events and activities for the whole family, not just the participating athletes. Spectators happily cruised around Olympic Village at Trenton Hall Lawn, where a few dozen Year-Round Partners offered games, giveaways, and chances to win awesome prizes.
There were Youth Athletes activities, a Future Stars race, Athlete Experience, and much much more!
Not to mention, the SONJ Souvenir tent was a hot spot during the event where everyone stopped by to check out the latest SONJ swag!
ShopRite, a proud partner of Special Olympics New Jersey for the last 30 years, provided FREE lunches all weekend to everyone attending Summer Games. Nearly 13,000 lunches were distributed!
---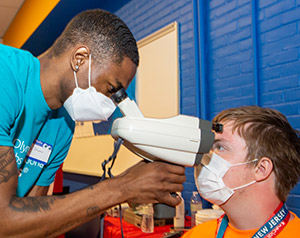 Healthy Athletes
SONJ also offered FREE health exams and services to ALL athletes throughout the weekend at the newly renovated Brower Student Center in the following 8 disciplines: Baseline Concussion Assessments, Fit Feet, FUNfitness, Health Promotion, Healthy Hearing, Opening Eyes, Special Smiles, and Strong Minds. Fun fact – This was the very first time SONJ hosted 8 Healthy Athletes disciplines at an event. Throughout the weekend over 1,500 screenings were completed in each of the 8 disciplines. Additionally, 453 unique athletes were screened and over 350 pair of eyewear were provided to athletes.
After each Healthy Athlete screening, athletes received a free giveaway specific to that discipline, and were also offered a chance to enter into a free drawing to win bigger ticket items! Prizes included tickets to local sporting events, autographed sports memorabilia, tickets to the Camden Aquarium and much more!
---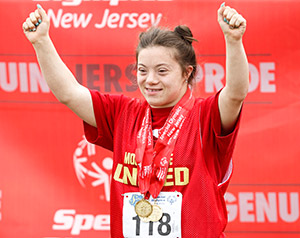 Competition
The months of training, hard work, and determination finally paid off for the athletes competing in this year's Summer Games. Thousands of medals were given out and countless memories were made. Complete results and photos from the weekend may be found at the following links:
The 2022 Summer Games was an unforgettable weekend! Special Olympics New Jersey thanks everyone who competed, volunteered, sponsored, donated, and cheered on our athletes at this year's Summer Games! We couldn't have done it without you!
Remember… the COMEBACK is STRONGER than the setback and we are truly BETTER TOGETHER!