Category: Community Stories
Update:
March 27, 2019 –
Three New Jersey athletes just returned from across the world, where they competed in the 2019 Special Olympics World Games.
Jane Clark, Miranda Mendoza, and Chris Wines traveled to Abu Dhabi for the world's largest humanitarian event March 14-21. Alongside 212 other athletes as part of the Special Olympics USA delegation, these homegrown competitors performed their best and made our state proud.
More than 7,500 athletes from 192 countries participated in 24 summer sports at the 2019 World Games. Special Olympics USA represented in 18 of the 24 sports offered.
Jane, Miranda, and Chris brought home one medal each and a few 4th place ribbons between them, contributing to the overall 203 medals Special Olympics USA won in Abu Dhabi. That's a lot of hardware!
South Orange resident Jane got a silver medal in team bowling and 4th place in singles. Miranda, from North Arlington, secured at gold in mini javelin and 4th place in both the 4x100m relay and long jump. Hammonton native Chris earned a silver in the 800m freestyle and 4th place in triathlon.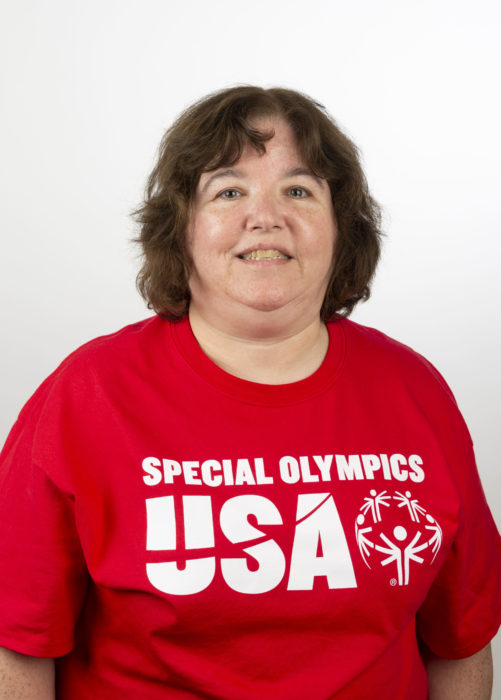 Bowling
Singles – 4th place
Team – Silver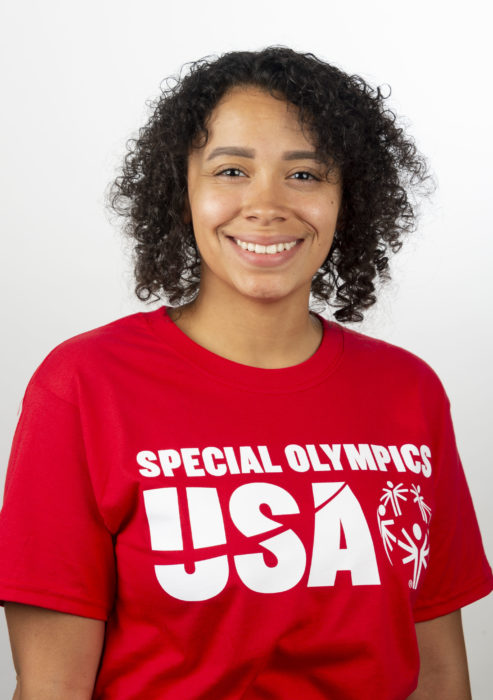 Athletics
4x100m relay – 4th place
Mini javelin – Gold
Long jump – 4th place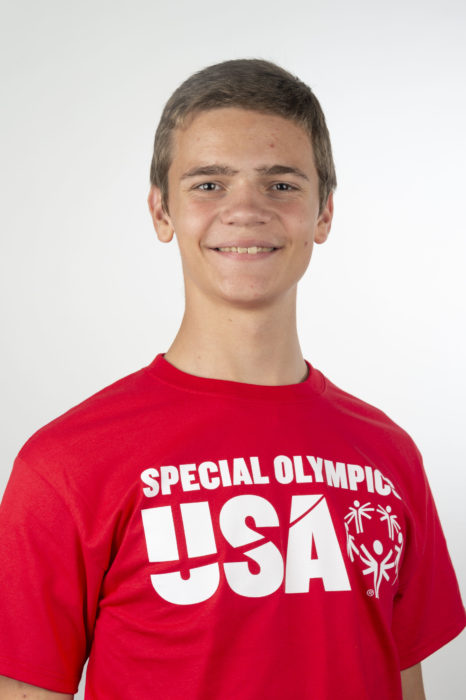 Triathlon, Swimming
Triathlon – 4th place
800m freestyle – Silver
New Jersey also represented on the law enforcement front. Captain Chris Wagner of the New Jersey State Police was selected as one of 112 officers from all over the world to run the "Flame of Hope" during its last leg in the UAE. Alongside 10 athletes as part of the Torch Run, these officers carried the Flame across all seven Emirates from March 6-13 before kicking off World Games at Opening Ceremony.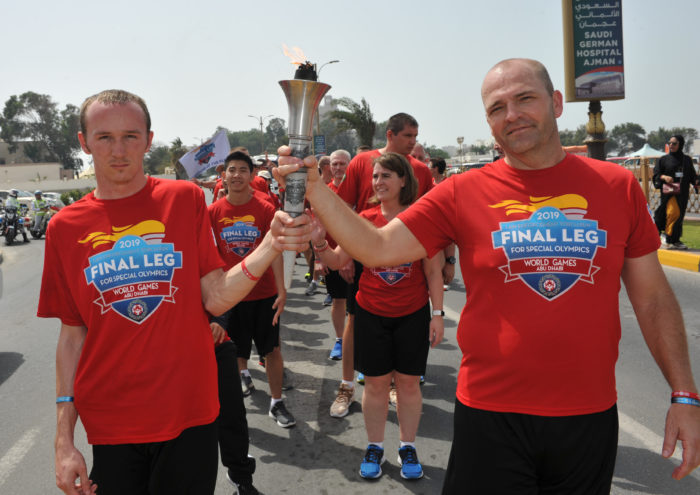 "This opportunity to spend time with [officers] from all over the world and the athlete on my team was very insightful," said Captain Wagner. "I've loved getting involved with Special Olympics and want to inspire more people to do the same."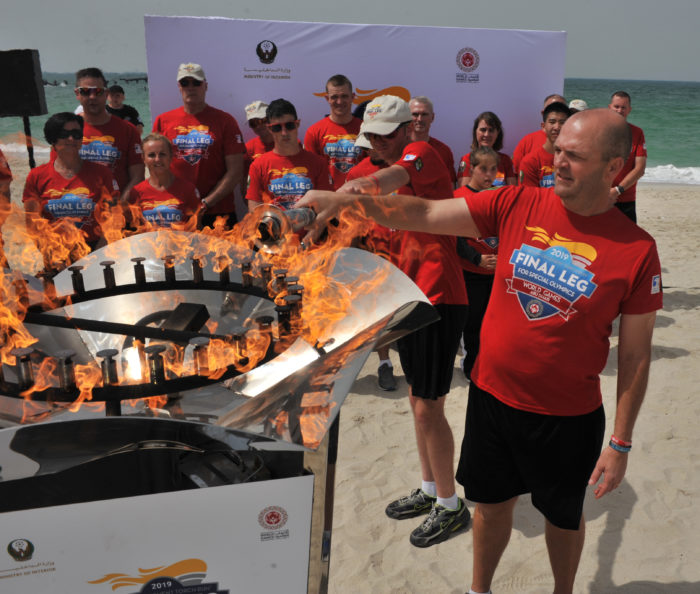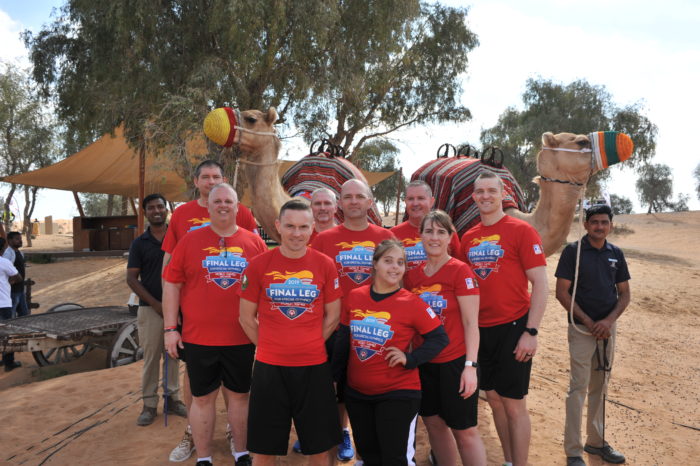 ---
Update:
Special Olympics World Games 2019 – Abu Dhabi
SONJ Athlete Medal Count

March 21, 2019 – The 2019 Special Olympics World Games were very productive for the three athletes from SONJ representing Special Olympics USA in Abu Dhabi.  Our athletes will be bringing home some hardware after very successful competitions: Jane Clark brought home Silver as part of Team Bowling, Miranda Mendoza won Gold in Mini Javelin, and Chris Wines swam to Silver in the 800 M Freestyle.  Chris also placed a very impressive 4th in Triathlon, Miranda scored two 4th place finishes in Long Jump and 4×100 M Relay, while Jane placed 4th in Singles Bowling.  Please see the links below for updated results and links to videos or photos featuring Special Olympics New Jersey athletes.
Schedules/Results
Special Olympics USA Delegation 
Photos
Videos
Social Media
That Golden Moment:
Great job, Miranda!! Proudly representing USA! #Cheer4USA @specialolyUSA @WorldGamesAD https://t.co/fGj2EhhJhW

— Special Olympics NJ (@SONewJersey) March 16, 2019
That winning feeling:
Day 2 of competition has begun and we are so EXCITED! 🤗 #happydance pic.twitter.com/Mme2za96vH

— Special Olympics USA (@specialolyUSA) March 16, 2019
Day 2 Highlights:
Day ✌️ highlights: https://t.co/7BTtahqZ30 #Cheer4USA

— Special Olympics USA (@specialolyUSA) March 17, 2019
Send off:
March 8, 2019
Original Story
This March, more than 300 athletes, coaches and support delegates will head to Abu Dhabi and represent Special Olympics USA at the 2019 Special Olympics World Games! Among that group will be 3 athletes from New Jersey, Miranda Mendoza, Jane Clark, and Christopher Wines.
Special Olympics World Games 2019 will be hosted in Abu Dhabi, United Arab Emirates in March 2019 for the first time in the Middle East North Africa since the movement's founding over 50 years ago. The Crown Prince Court, led the winning bid efforts with a mission to promote positive social change for people with intellectual disabilities and create a more inclusive society.
For the 3 athletes from New Jersey, it will be the opportunity of a lifetime to represent Special Olympics USA. Back in September, our athletes got a taste of the games when Special Olympics USA held their training camp at the University of Delaware. Athletes got the chance to train and spend time with their new teammates, which is the only opportunity they will all have together prior to the games.
Athlete at USA Training camp got to have some fun participating in a Unified Carnival with University of Delaware students and even go to go to Citizens Bank Park for a Phillies game.
"I never thought that any of this could happen and it did. And I'm glad that it did because it's made me who I am today." – Miranda Mendoza
Athlete Miranda Mendoza from North Arlington, NJ, will compete in Athletics for Team USA. Miranda was one of our 60 athletes that represented New Jersey in Seattle for the 2018 USA Games. Miranda took home a gold, silver, and bronze medal!
Jane Clark from South Orange also represented New Jersey in Seattle at the 2018 Special Olympics USA Games. A bowler, Jane Clark took home a gold and two silvers at the games. Her bowling has progressed over the past few months and she is now practicing twice a week!
Christopher Wines, from Hammonton, New Jersey, has been competing and earning gold medals with Special Olympics for the past 7 years! A multi-sport athlete, he's competed in swimming, floor hockey, softball, and triathlon. 
Special thanks to Bimbo Bakeries, JAG ONE Physical Therapy, and NJM Insurance Group for supporting our World Games athletes.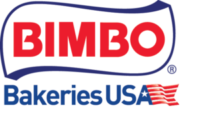 Support our New Jersey athletes heading to World Games