Category: Events and Competitions
Justin Malfitano, a bowling athlete from Toms River, represented New Jersey at the 2018 USA Games in Seattle, Washington. His medal-winning score of 268 topped off his incredible journey from a young age all the way to the Games, which ran July 1-6.
---
At 3 years old, Justin Malfitano was diagnosed as non-verbal. The doctor told his parents that if by the age of 5 he still wasn't speaking, he likely never would – and even if he did eventually learn to talk, he would most certainly be an introvert.
---
Around the age of 5 and a half, Justin started to become verbal. He communicated on a limited level and would often get fixated on very specific ideas or things. Sports presented themselves as a way to channel his energy and concentration. His dad, Sal Malfitano, would turn to bowling, a sport that he was raised on.
"In the beginning, the noise of a bowling alley bothered [Justin]," Sal recalls the first few times he took his son bowling. "But then, he kind of got used to it because we kept going back. At that time he was bowling with a ramp and bumpers!"
Justin would continue to go back to the alley and gain confidence. Eventually he could roll the ball himself, then bowled without bumpers, and eventually got to knocking over some pins. 
Outside the bowling alley, Justin also made progress socially. He started attending Children's Center of Monmouth County, a school for children with all different types of disabilities. That is where he first became involved with Special Olympics New Jersey. At age 19, Justin entered public school at Toms River High School North.
Toms River North is where Justin's bowling success took off. He quickly joined the varsity team and by senior year, was the top bowler and captain of the team. He finished off his high school career with an average of 235.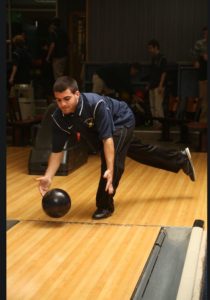 ---
In September of 2017, Sal remembered receiving the news that his son was going to be on Team New Jersey for the 2018 Special Olympics USA Games.
"[Justin] gave me that famous fist pump and he said, 'Let's go to Seattle now!"
---
Flash forward to Seattle in July 2018, and Justin Malfitano had bowled 5 straight strikes in the biggest Special Olympics event of his life. But that wasn't the end of his reign. 
As the competition progressed, an energy began to form in the bowling alley and an ESPN film crew made their way over to Justin. As he took aim, he stood with his feet together, back to the crowd, approached the lane and released the ball with two hands. The ball worked from right to left and cracked over every single pin. A record-breaking strike number 6. ESPN got it all on tape, and they knew this story needed to be told. 
Not only is Justin verbal now, but after each successful strike at the Games (and there were plenty!), he roared to the crowd. At the age of 22, he radiates confidence and has a edge to his personality and to his game. When he's in his element at a bowling alley, there is no sense of disability. Justin is a bowler, not a Special Olympics bowler, a bowler.
Justin ended up bowling a 268 in the team competition to help propel Team New Jersey to the silver medal. He also received a gold medal for High Performance in Men's Singles division and another gold alongside teammate Laimont Monard for the Men's Double division. Justin not only helped his teammates along, but encouraged other athletes as well, as noted by an opposing parent to Justin's dad after the game.
Justin's success at the Games warranted not just one, but two ESPN interviews – one after his bowling performance and another at the USA Games Closing Ceremony, where he was interviewed again in front of thousands of people.
Justin rolled a 268, 2 pins shy of a perfect game. And yet, considering the journey Justin has been on till now, it feels like the most impressive part of his performance was the fact that he was simply present, enjoying himself and doing what he loves – bowling.
---
So what's next for Justin? It's back to bowling on Fridays with Dad and his Special Olympics New Jersey team on Saturdays.