Category: News
On Saturday, November 2nd, the third annual Unified 5K Run took place at Mullica Hill, New Jersey. Rowan Unified Club member, Timothy Sharp, volunteered as an "angel" for the event. Below he shares his experience with Special Olympics New Jersey athlete, Brian Cannavina.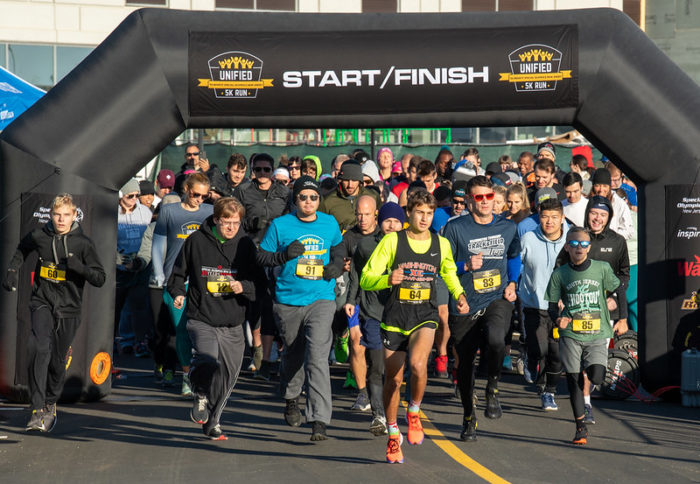 "Recently, I participated in the Unified 5K at the new Inspira Health Medical Center near Rowan University. This experience was a little different from my others, however.
So, I signed up to be an angel for this event because I have done it before, and I have always enjoyed forming new relationships. To briefly explain, an angel is someone who pairs with a person who has some form of a disability to enhance their performance and guide them during the event. I got paired with Brian Cannavina, who has a vision impairment and needed me to act as his eyes while we ran the three miles together (informing him of potholes or rocks he could possibly trip over).
Before arriving at the hospital on Saturday morning, I thought I had a pretty realistic goal of completing the 5K in around 30 minutes (10-minute miles, not terrible). However, Brian's goals were a tad more ambitious than mine.
I met up with Brian about a half-hour before the race started and we seemed to be on the same page. We were both talking about how we've been involved with Special Olympics since we were kids and we've both done multiple 5K's in the past as well. As were talking, we start stretching together and when the starter made the announcement that the race would be beginning shortly, Brian told me he likes to start at the front of the pack. This is because he doesn't want to be surrounded with other runners that could possibly bump into him or impede on his pace. This was the first warning signal for me that I was in over my head.
We were at the front of the pack and I asked Brian what his goals were for the race and he responded with "I want to finish in under 25 minutes." To anyone who is a runner, you know very well that shaving off 5 minutes is not an easy thing to do and it requires consistent training (which I did not do before-hand). On top of finishing in under 25 minutes, Brian planned to separate himself from the pack by sprinting for the first mile or so until he felt there was a good enough gap between him and the other runners.
People, I was NOT READY. So, the gun went off and we started running and I immediately knew that I could not keep up with Brian (AND I'M SUPPOSED TO BE HIS EYES). I begged Brian to slow down, but nothing was going to stop him from keeping his pace. Luckily, we were on brand new pavement and there wasn't anything impeding on Brian's running ability. Even more lucky for me, we were running next to a very good friend of mine, Sydney Rey, who runs marathons for fun. I informed her of my difficulty keeping up with Brian and asked her to take over as his angel, which she did flawlessly.
After delegating my responsibilities, I simply just stopped running so I could catch my breath and headed over to the finish line (shameful, but necessary). I watched as they finished the race in just over 25 minutes and met up with them to apologize to Brian for not being able to keep up and thank Sydney for being the awesome person that she is. Brian gave me grief, but told me that there was nothing to be sorry for because everyone has different physical capabilities and today, I just so happened to be out-matched (LOL). He also told me that today he did not achieve his goal, however he will achieve his goal eventually by continuing to run.
I'm glad I got the opportunity to meet Brian Cannavina. His drive and persistence are an inspiration to me and I'm sure to many others, as well. There are two takeaways from this story: (1) you never know when or where you will have a humbling experience and, (2) just like Brian, never stop working towards your goals."
– Timothy Sharp, Rowan Unified Club, on his experience as an "Angel" in the 2019 Unified 5K Run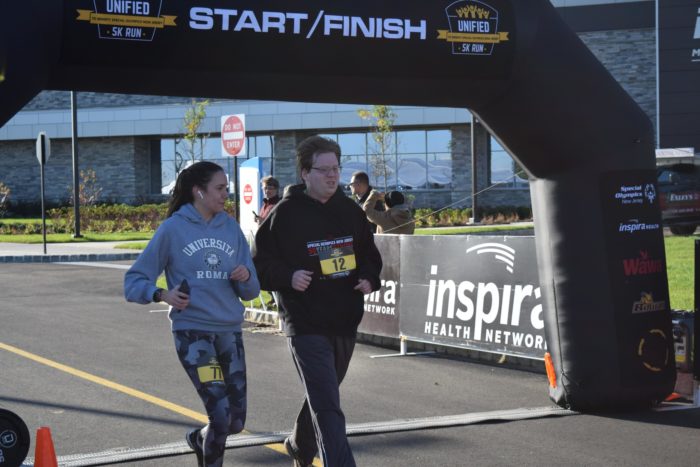 ---
The third annual Unified 5K Run took place at the new Inspira Medical Center in Mullica Hill, New Jersey. 210 participants ran, jogged, and walked UNIFIED in either the 5K Run or 1-mile Fun Run. Along with raising over $22,000 for Special Olympics New Jersey athletes, the event had an emphasis on being Unified – joining people with and without intellectual disabilities through Special Olympics, the Unified movement is inspired by a simple principle: the act of competing together is a quick path to understanding, acceptance, and friendship, as seen in Tim and Brian's experience. 
All participants also received a custom finisher's medal given out by Rowan Unified Club Athletes and Partners. There were also custom awards given out to the Top 3 Overall Female and Male finishers, Top Female and Male finishers in various age groups, and the highest fundraiser.
The 2019 Unified 5K Run was also another opportunity for Special Olympics New Jersey to "Go Green," one step at a time. Green tips included:
Register online and download course maps to your phone to eliminate paper copies
Carpool to the event
Recycle at the event
Refill reusable water bottles at our hydration stations
Bottles generated by Quality Concepts were provided to all participants. The Pledge of Sustainability with Athletes for a Fit Planet can be found below.
A HUGE thanks to Inspira Health, Wawa, Rowan Campus Rec, Rowan Unified Club, Delmo Sports, and Quality Concepts, for supporting and presenting the event.