Category: News
Special Olympics athletes, organization leaders, Unified Sports partners, family members, and supporters from across the United States engaged virtually February 10 – 11 for Special Olympics' annual "Capitol Hill Day."
Typically, Special Olympics U.S. Programs travel to Washington, D.C. each February to meet with their state's Members of Congress in person. However, due to COVID-19, all meetings were held virtually for Capitol Hill Day 2021.
This is the 19th year Special Olympics has organized the event, which included over 500 delegates representing 48 states, and was held for the first time 100% virtually. Additionally, supporters rallied virtually to contact their Members of Congress through a VoterVoice campaign to ask for continued support of Special Olympics.
Special Olympics athletes led more than 300 virtual meetings with Members of Congress in both the House and Senate, inviting their elected officials to partner with them to support inclusive education and health initiatives for people with intellectual disabilities (ID). Special Olympics Unified Champion Schools® programming is in over 7,800 schools across the United States, with a goal of being in over 10,000 schools by 2024.
Special Olympics athletes, serving as self-advocates, educated lawmakers and their staff about the stigma faced by people with ID, and how high-impact and cost-effective Special Olympics programming in sports, health, and education can reduce discrimination. The advocates also requested continued support from legislators for evidence-based programming that benefits all Americans, regardless of ability.
The first day of Special Olympics Hill Day was a great success, as Special Olympics New Jersey (SONJ) athletes, Unified partners, coaches, staff, and supporters shared the importance of Special Olympics programming in the U.S.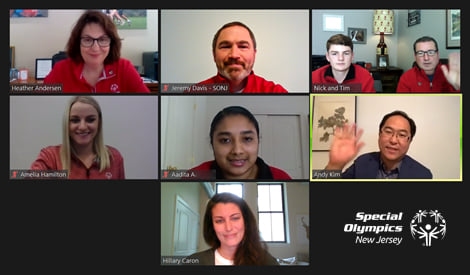 Day 2 of Capitol Hill Day rolled on with more successful meetings.
SONJ asked participants to share some thoughts on this year's virtual event and what Capitol Hill Day means to them:
"On February 10th and 11th, I had the opportunity to participate in the Special Olympics Hill Day virtually. This was my first Hill Day and I was very nervous, but with the support of SONJ staff, I was able to prepare well and make it through successfully. I was proud to share how SONJ total body challenge and other virtual programs helped me during the pandemic. I hope, by sharing my story, I was able to convey how effective SONJ programs are for Special Olympics athletes like me and will help to receive continued funding support. I thank the representatives, their staffers, and SONJ Hill Day team for their time. My special thanks to Ms. Amelia for this great opportunity and support." – Aadita Arulalan, Special Olympics New Jersey athlete
"Special Olympics has changed my life in many ways. I made a lot of great friendships over the years through the love of sports and participating in Unified Sports. Unified means having and playing the game with others who share your love and passion for the sport. Unified means everyone is included in every activity. Being involved in Hill Day allows me to tell my story and help our state representatives understand how important our program is. Our representatives need to support and understand everyone is the SAME." – Louis Cavana, Special Olympics New Jersey athlete
"This was my first Hill Day and I was SUPER excited to speak to our senators and representatives! Unified Sports and Special Olympics have helped me discover who I am and how I can be involved in the school community. I was honored to share my experiences with representatives on Capitol Hill and represent SONJ and Voorhees High School. I am very proud of myself and Cassondra for doing this together!" – Katharine Gaudio, Special Olympics New Jersey athlete
"Hill Day 2021 was a success! I attended Hill Day as a peer alongside Katharine Gaudio. It was the first time for both of us advocating with Special Olympics New Jersey and sharing our stories with senators and representatives. Voorhees High School's Unified program has allowed me to build incredible memories and friendships that I was honored to share with the representatives. Unified Club & Sports has built an inclusive environment at the school and has given peers, like myself, the ability to stand up against injustices and support students with intellectual disabilities. I am proud to be a member of Special Olympics New Jersey and a friend of Katharine's! To continue to strengthen Unified programs in schools, it is essential that our representatives understand the role that Unified Champion Schools play for athletes, peers, and the school community, as a whole. When speaking with members of congress, I especially enjoyed listening to Katharine speak with such a passion and love for the Unified program! I am incredibly grateful for the opportunity to advocate with Special Olympics New Jersey, represent Voorhees' Unified program, and feel heard by members of congress. Lastly, Katharine and I would like to extend a thank you to the offices of Representative Norcross and Representative Sires who we met with over Zoom."  – Cassondra Stoter, Unified Partner
"Special Olympics changed my life 10 years ago. I started coaching track and basketball, then did many other events like the Polar Plunge. I started doing Unified programs 3 years ago. When I started Unified, I was also a coach for high school sports, and when I saw the interaction between my high school athletes and Special Olympics athletes, my heart melted. I knew Unified was what I was destined to do, and there was no turning back. Unified is a special bond between athletes and Unified Partners that show no limits. These individuals show that if there is any obstacle in their way, they will overcome it together. Unified is family to me and the best, most important thing I have ever done in my life. The highlight of Hill day was hearing the athletes, Unified Partners, and other coaches tell their stories, and advocate for Special Olympics programming. Looking through the lens of wanting the country to be united, I do not know of a better organization than Special Olympics for representatives to support, especially since that's what Unified stands for…unity and inclusion for all!" – Meghan Leonard, Bloomfield Essex County Special Olympics Coach and Unified Coordinator
Over the span of two days, Special Olympics New Jersey met with 8 out of 14 state Senators and Representatives, including Congressman Andy Kim, Congresswoman Mikie Sherrill, as well as, the office of Senator Cory Booker, and offices of Representatives Donald Norcross, Frank Pallone, Donald Payne, Jr, Albio Sires, and Bonnie Watson Coleman. SONJ looks forward to meeting with the remaining Representatives Josh Gottheimer, Tom Malinowski, Bill Pascrell, Chris Smith, Jeff Van Drew, and Senator Bob Menendez, in the coming weeks. To contact your U.S. state representative and support Special Olympics New Jersey, go to Find Your Representative, or visit https://www.njleg.state.nj.us/ for more information on your New Jersey state legislators.