Category: News
Did you hear the news? April is #NationalVolunteerMonth! We will be featuring several stories about some of our AMAZING Special Olympics New Jersey volunteers.
This week's story is about volunteer, Jan Munch! Jan has been volunteering with Special Olympics New Jersey for 31 years! She is a coach for Tennis, and practices nine months out of the year, finishing their season with the ever-spectacular Summer Games! According to Jan, volunteering is a way to not only give back to the community, but to teach those in the community about how special the Intellectual and Developmental Disabilities (IDDs) population is.
Jan's favorite part about volunteering with Special Olympics New Jersey has been building relationships with athletes, families, and volunteers, which is so special to her. Jan has learned not to assume or mentally limit a person's ability, simply because they have cognitive learning challenges. It is her job to find out how to best communicate and teach so that they can achieve their best. Jan has also learned how easy it is to make a difference. Many times, it is as easy as an encouraging word, a kind gesture, or a silly laugh.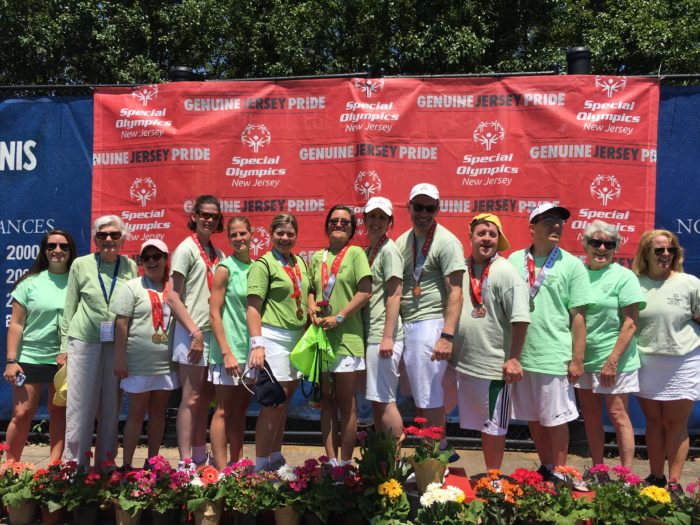 Jan has had a few interesting stories from volunteering with SONJ. One of them was when they were caught in a downpour returning from the Summer Games Opening Ceremony at The College of New Jersey. One of her chaperones put an athlete on her back and ran piggyback style through the soaking rain. Another fun time was dancing in a conga line on the field with athletes when a band was playing. Jan was pushing an athlete in a wheelchair and had a line of about 15 athletes behind her. One of her most famous stories was when one of her athletes faked a heart attack at the Saturday dance so that he could get the attention of the "cute" medical staff. The athlete ended up getting way more than the nurses' attention and was shocked when the ambulance arrived.
Once things get back to "normal," Jan is most looking forward to seeing her athletes, parents, and volunteers. Everyone misses each other and can't wait to get outside playing tennis again!
Get Involved! The heart of our organization is our athletes, and we would not exist today without the individuals and organizations who help support them throughout the year. Click here to learn more.