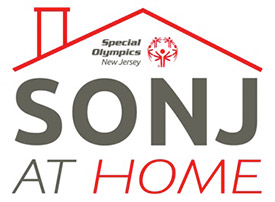 Who is permitted to participate?
Anyone is permitted to participate, whether they are registered with SONJ or not.   If you are not currently registered as an SONJ athlete, but you intend to compete in the future, you will have to fill out a medical form before you can compete in person with us.
On what platform will the live events take place?
Do I need to register to participate in live events? 
Yes. All live events will require you to register.   Click on the event you would like to participate in, click the "Register" button on the event page, and fill out the necessary information through Zoom.  You will receive a confirmation email once you have submitted the registration.
Can I still participate in these activities if I typically don't do Winter sports? 
Yes!  This is open to anyone that is interested.  Medicals will be required for athletes who want to participate in Total Body Challenge.   They are not required for "Hangout" sessions.
Will prizes be given out?
Incentives will be given out to Total Body Challenge participants who sign up and submit the code words for the daily challenge videos.
Do I need a valid medical to participate? 
If you are participating in Total Body Challenge, you will need a valid medical.   For Hangout sessions, a medical is not required.
I am a Winter sports athlete, will there be opportunities to do my sport virtually?
While there will not be sport-specific skills and drills for the Winter sports, the Total Body Challenge and live fitness sessions will aim to have workouts specifically geared towards benefiting Floor Hockey players, Volleyball players, Skiers, Skaters and others!
Do I have to complete the COVID Code of Conduct and High-Risk Waivers?
No.  Virtual activities do not require those waivers.
What is the timeline for SONJ at Home opportunities?
Live events through Zoom will begin on Monday January, 11th, but will continue for the foreseeable future.  There is no end date at this time.
I missed the January 11th start date, can I still participate in SONJ at Home activities?
Absolutely!  Those interested can join in on the Total Body Challenge or the other live events at any point they wish.
I am unavailable for the live activity(s) today, is there anything else I can do?
You will find many other resources on the SONJ at Home main page.  From fitness videos to educational game sites to art activities, there are multiple ways to stay engaged when there are no live activities taking place.  All can be accessed at your convenience.
What types of activities will be offered through Hangouts?
For the schedule of upcoming activities, you can visit the Upcoming Events page.  Events will be updated as they are confirmed, so continue to check the site.  If you are interested in hosting a live hang out activity, please contact Jess Stevenson at JNS@sonj.org.
I am interested in hosting a live Hangout activity, what can I do?
Who do I contact with questions?
For questions related to Total Body Challenge and live fitness, please email Amelia Hamilton at totalbodychallenge@sonj.org.
If you are interested in hosting a live hang out activity, please contact Jess Stevenson at JNS@sonj.org.
For all other questions and concerns, please contact Sam Cyliax at SMC@sonj.org.