Category: News
For over two decades, the Perlman Cup has been a beacon of support and hope for Special Olympics New Jersey. On Tuesday, May 9, 2023, at Forsgate Country Club in Monroe Twp., NJ, over 130 golfers from all over the state came together to honor the memory of Bessie Cutter Perlman, the mother of Special Olympics New Jersey, and raise funds for SONJ.
The Perlman Cup is an all-female golf tournament and beginner's golf clinic, designed to accommodate people of all skill levels. Contests held in the tournament included On the Green, Closest to the Pin, Longest Drive, Straightest Drive, Guess the Tees and Hole in One, sponsored by Flemington BMW.
This year's tournament raised over $63,000 for the organization – an incredible show of support and the highest amount raised to date! These funds will go towards SONJ's mission in providing year-round sports training and athletic competitions to children and adults with intellectual disabilities. Through sponsorships, donations, and registrations, hundreds of thousands of dollars have been raised throughout the tournament's 26-year history in support of Special Olympics New Jersey.
The Perlman Cup welcomed three SONJ athletes to golf in the tournament, Pauline, Catherine and Halli. Halli will be going to Berlin, Germany in June to represent the Special Olympics USA Team at the Special Olympics World Games. She delivered an inspiring speech at that awards dinner, following the round of golf. After Halli spoke, her Unified Partner for the USA Team, Mary shared her story, detailing the impact being a part of SONJ has made on her and her life.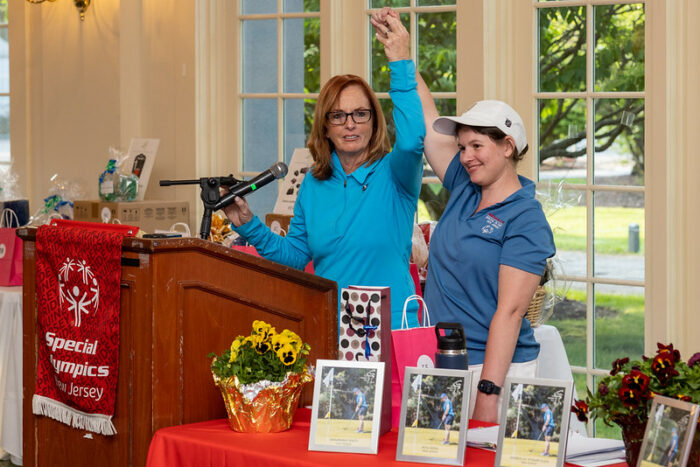 By participating in or donating to this tournament, participants not only honored Bessie Cutter Perlman's commitment to individuals with intellectual disabilities and her hope for a more inclusive community, but also help SONJ provide training and competition opportunities, health, wellness, athlete leadership and Unified program initiatives to thousands of athletes across the state – all completely free of charge! Her legacy lives on through every golfer who joins in on this event – making it an incredibly inspiring way to support SONJ.
Sponsors play a vital role in the success of the Perlman Cup and their support is essential for the success of the tournament. This year, sponsors donated money, provided resources such as equipment, golfer gift bags and provided volunteers to assist with the event. Thank you to Wakefern Food Corp. for providing golfer gift bags as well as BlackRock for providing volunteers on and off the course! These sponsorships and donations enabled the organization to raise more money than ever before. The efforts made by sponsors, committee members, donors and participants this year have been tremendous; without them this tournament would not have been possible.
Thank you to our sponsors!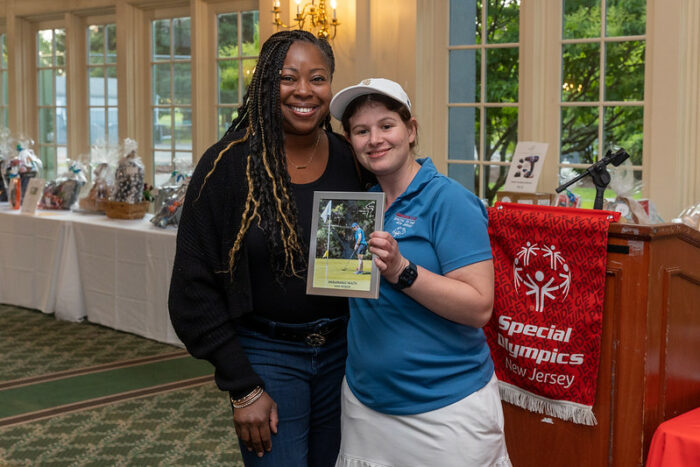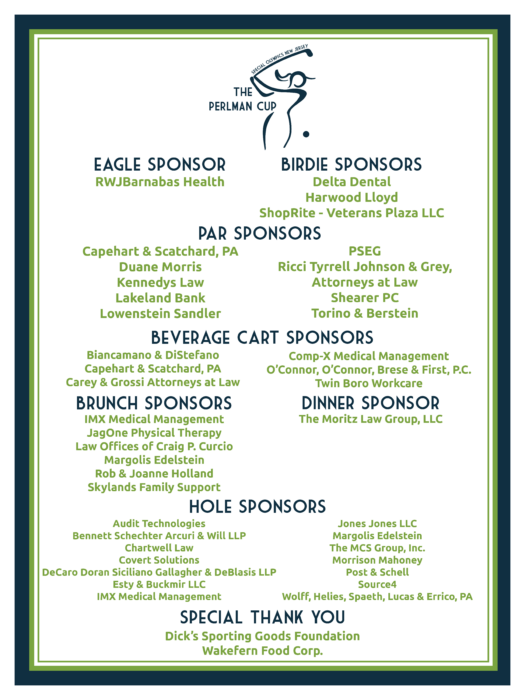 As we celebrate the 26th anniversary of the Perlman Cup, we are reminded of the Special Olympics New Jersey vision, to foster inclusive communities for people with and without intellectual disabilities through innovative sport, health, wellness and leadership opportunities for Special Olympics athletes, their families and society as a whole.
We hope that you will join us in celebrating her memory by participating in the 2024 Perlman Cup or other upcoming fundraising events!