Category: News
From September 19-21, the 2019 Law Enforcement Torch Run (LETR) International Conference was held in Aurora, Colorado. Law enforcement officers, personnel, and Special Olympics staff from around the world gathered to celebrate their efforts in not only raising awareness but standing out as the top grassroots fundraising organizations for Special Olympics.
---
In New Jersey, the Torch Run began in 1984 starting in Liberty State Park (Jersey City) and ending in Rutgers Stadium (New Brunswick). Covering 34 miles and going through eight towns, the inaugural Torch Run raised $7,000 for Special Olympics New Jersey (SONJ). Now, the Law Enforcement Torch Run has expanded to thousands of officers throughout the state, and an expansive list of events along with the Torch Run (i.e. 3 Polar Bear Plunges, the Lincoln Tunnel Challenge 5k, Plane Pull presented by United Airlines, Statue of Liberty 5K, etc.). NJ LETR was recognized at the 2019 Law Enforcement Torch Run (LETR) International Conference as the #3 LETR fundraiser in the world with a NET total of over $3 million in 2018. Additionally, Special Olympics New Jersey's region, Region II (D.C., Delaware, Maryland, New Jersey, New York, Pennsylvania, Virginia and West Virginia), collectively raised over $13 million in 2018, and over $161 million since 1984.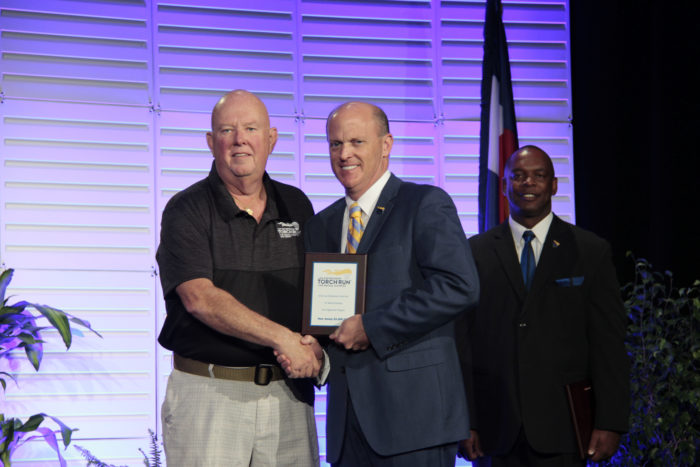 ---
Not only did Special Olympics celebrate its 50th anniversary, but 2018 also marked significant historic accomplishments for LETR in NJ. It was the 35th anniversary of our Law Enforcement Torch Run, the 25th Anniversary of our largest Polar Bear Plunge, and the first time LETR has grossed over $4 million raised.
Going forward, LETR will be celebrating its 40th anniversary in 2021. Chief Richard LaMunyon, the founder of LETR, has challenged every LETR program across the world: Increase the fundraising total to $1 BILLION collectively by the end of 2021.
To all those involved in LETR in the state of New Jersey, SONJ thanks you for the unparalleled fundraising contributions each year, as well as the significant impact you all have had on our athletes.
Conference Photos
Conference Website
---