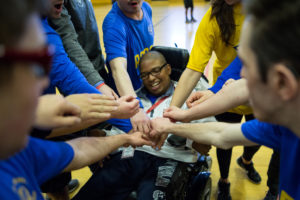 Each Unified Champion School is required to have an inclusive Play Unified Club where students with and without intellectual disabilities can work together to organize social and sports activities.
These clubs collaborate with their athletic department, and sometimes other schools, to organize and host Unified Sports® events.
Events and Competitions
School or district culminating events, tournaments and game days can be organized to bring the community together to cheer on the Unified teams. Club teams are also eligible to participate in Special Olympics New Jersey's Unified Cup School Championships.
For more information on Club Sports, contact ucs@sonj.org.